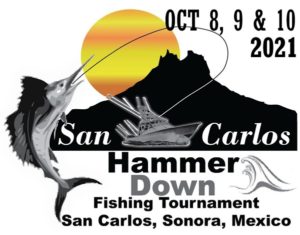 After a year off due to the COVID-19 pandemic, the Hammer Down Fishing Tournament was held October 8 – 10, 2021. This tournament is the amalgamation of the Labor Day Invitational Tournament, established in 1984 by Bill and Betty Lou Hammer, and the Cantina Cup. This tournament has contributed over $300,000 USD to charitable institutions in San Carlos and Guaymas over 35 years.
Rescate de San Carlos is extremely grateful for the very generous share of the profits that was donated to our cause this year.  It is a huge help to keep our doors open after 18 months without the ability to fundraise!
We would like to extend our sincere thanks to the sponsors, the volunteers and all of the anglers!
Sponsors:
Lawley Sierra Vista
Encantada
CI Banco
Mist N Smoke
Sonora Hunting and Fishing Services
Iberri Insurance
Donna Jean
Joe's Marine Services
International Billfish Tournament
Maximum Defense
Graficom Imprenta
Turbo Auto Diesel Co., Inc
Melton International Tackle
Team Cortezano
Delta Construction
Vive Real Estate
Hammer Head's Dockside Bar and Grille
Baby Girl
Peralta & Asociados Abogados
Ocean Sports
Predator
Relax
Coldwell Banker
RE/MAX First Choice Realty
A huge special thank you to Kathy Rodgers for pulling it together so quickly, Charla Hicky as the secretary/treasurer for keeping the books and all of the other volunteers who made it work:
Bill Hammer and Kathy Rogers: co-chairs
Rules: Dolores Ruppel
Rule book: Dave Rothschiller
Cameras: Steve Fusco and Alex Hammer
Weigh Master: Tom Barroll assisted by Denny Grover
Radio: Kathy Rodgers and Norene Sullivan
Registration: Diane Barroll and Charla Hickey
Tents and Chairs at the weigh station: HammerHeads and Tecate
Webmaster: Martin Valdez
other volunteers: Melissa Nicoletti, Joe Hicks and Mindy Hicks