First Aid for Jellyfish Stings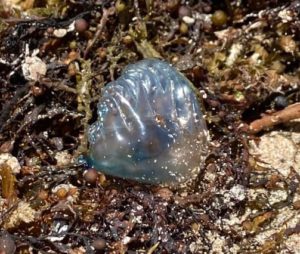 There has been a fair amount of discussion on social media in San Carlos recently (May / June, 2022) about the appearance of jellyfish (most often bluebottle jellyfish) on our beaches and in the water. There have been several sightings this year, so caution is advised when swimming and enjoying our beautiful beaches.  For first aid tips on jellyfish stings please click on the link below.
Remember Rescate can't be reached at 911. In an emergency dial (622) 226-0911 or, from a US or Canadian cell, 011 52 (622) 226-0911.
Build Your Own First Aid Kit
Few of us think about first aid kits until we need one, but it's always a good idea to have one on hand.  You can purchase different sizes and types of kits, or you can make your own.  Kits can be customized depending on intended use – a home kit will differ from a travel kit, for example.  The important thing is to be prepared to treat minor injuries or to apply first aid while waiting for professional assistance with major injuries.
For a list of suggested items to have in an all-purpose first aid kit, click the "read more" button below.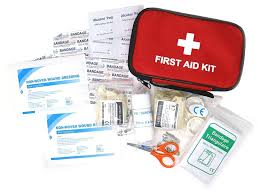 Remember Rescate can't be reached at 911. In an emergency dial (622) 226-0911 or, from a US or Canadian cell, 011 52 (622) 226-0911.
Health Insurance and Hospitalization in Mexico
The San Carlos Education Series recently offered a session on ex-pat health insurance and hospital fees in Mexico from a Canadian, US and ex-pat permanent resident perspective.
Canadian perspective, Bill Crysler, Rescate Board member and Canadian accreditation surveyor of private hospitals in Mexico:
Don't rely on your provincial healthcare to cover you in Mexico (or any other country). They reimburse only for medical emergencies and only for doctor's services up to the amount they would pay in your home province.  Hospitalization is reimbursed up to limits which vary by province (eg. BC pays up to $75 CAD / day, Ontario will pay up to $400 CAD / day for ICU, $200 CAD / day for regular hospitalization.)  Ambulances, prescriptions, physiotherapy, repatriation etc. are not covered.
Best advice – buy medical insurance. Travel plans are generally affordable and can be purchased from many sources.  Price is dependent on age and recent medical history.
Based on experience of conducting 15 inspections of Mexican private hospitals in the past 24 months, do not fear them! Standards are high, hospitals are clean, well-equipped and very modern.
Whether you have travel medical insurance or not, be prepared to cover out-of-pocket expenses including hospital fees. It's a good idea to have a lot of credit available on one or more credit cards.  The most common experience is that the hospital will require $25,000 USD before admitting you, although this may vary depending on your condition.
USA perspective, Dr. Glenn Lippman, Rescate Board president:
Straight Medicare (Medicare A and B)
Medicare usually doesn't cover health care while you're traveling outside the US. There are some exceptions:
Medicare may pay for inpatient hospital, doctor, ambulance services, or dialysisyou get in a foreign country in these rare cases:

You're in the U.S. when a medical emergencyoccurs, and the foreign hospital is closer than the nearest U.S. hospital that can treat your medical condition.
You're traveling through Canada without unreasonable delay by the most direct route between Alaska and another state when a medical emergency occurs, and the Canadian hospital is closer than the nearest U.S. hospital that can treat the emergency.
You live in the U.S. and the foreign hospital is closer to your home than the nearest U.S. hospital that can treat your medical condition, regardless of whether an emergency exists
AARP United Health Medi-Gap
Emergency must occur within 60 days of start of travel
Reimbursement of expenses based on review
Up to $50,000 USD lifetime
Not for routine services
Medicare Advantage Plans
HMO with Humana: Only within the US
PPO with Humana: Worldwide, but based on reimbursement and subsequent review by insurance company. Reimbursement will depend on medical issues and usual reimbursement rates.
The customer assistance staff emphasized that coverage may change every year.
USA Summary:
Coverage is going to depend on who you are covered by
Straight Medicare does not cover out of country
If you have MediGap or a Medicare Advantage Plan – be prepared to pay at time of treatment and seek reimbursement subsequently. Depending on type of plan, the coverage may not exist.
Check with the Plan every year at time of issuance.
Permanent resident of San Carlos perspective, Tom Barroll, local realtor and business owner:
Has had considerable medical treatment and surgery at CIMA hospital in Hermosillo – nothing but rave reviews for the hospital and medical care he received.
Open heart surgery cost was $38,000 USD at CIMA as compared to $400,000 - $450,000 USD in the USA.
All his surgeries have been paid by his Mexican medical insurance. You must be under 65 when you first buy it and you must have temporary or permanent status in Mexico to be eligible.  It is catastrophic insurance only, minor doctor visits are not covered.
Tom pays $50,000 pesos / year and his (younger) wife pays $30,000 pesos. The policy has a $17,000 peso deductible.
Some travel evacuation insurance options:
Skymed will take you, your travel companion(s) and vehicle home in case of medical emergency - $575 USD per family / year
Divers Alert Network (DAN) sells travel insurance to non-divers, will cover medical emergencies, repatriation, air ambulance up to $100,000 USD / year, and more. Available only for US citizens. (special thanks to Art Mackie for presenting this information)
Good Sam Travel Assist offers very affordable plans starting at $59.99 USD / year
Remember Rescate can't be reached at 911. In an emergency dial 226-0911 or, from a US or Canadian cell, 011 52 (622) 226-0911
Emergency Medical Treatment, Hospitalization, Death and Dying in Mexico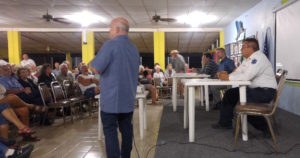 On January 17, 2019, the San Carlos Education Series presented a session on Health Care, Hospitalization and Dying in Mexico.  The very popular session was organized and presented by Rescate and about 215 people were in attendance.  Presenters at the panel presentation were Dr. Glenn Lippman (Moderator and Rescate Board President), Dr. Mike Laux, Dr. Canale, and Jessy Guerrero (Rescate supervisor).  The following information was provided:
Rescate has a minimum of three staff working 24 / 7
Emergency calls to 622-0911 are taken by the on-site dispatcher and ambulances containing two staff members respond
All staff receive training on an on-going basis. The EMT supervisor has recently reverted to a shift schedule to evaluate and train all staff on the job as they respond to emergencies
Their role is to stabilize, assess and transport patients to the appropriate facility
Where necessary, EMTs use cell phone technology to send photos of the patient, their injury, the patient's chart and any prescriptions they have to the on-call doctor for instructions on how to proceed
Hospitals in Guaymas have limited resources and patients with serious conditions or injuries generally need to go to hospitals in Hermosillo
The hospital in Guaymas where ex-pat patients are taken is the "Nun's" Hospital Pabellón – Guadalupe which has doctors on call, a small blood bank and no CT scan
The three main private hospitals in Hermosillo are CIMA, San José and Hospital San Benito
On admission to hospital the patient must show that they have the means to pay. Credit cards are accepted but must have combined limits up to $25,000 USD, depending on the patient's condition
Hospital bills need to be paid before patients are released
Blood banks in Mexico are highly regulated and rarely have much stock. Patients requiring donations need to have friends and family donate blood.  Donor eligibility is highly regulated with an upper age limit of 60 years
There are supports for aging and chronically ill patients in San Carlos but they should be arranged / obtained through the doctor to ensure credibility
It is advisable to have a physician of record in San Carlos who has your medical history and next-of-kin information
This information can also be kept at home in a "Vial of Life" (free at Rescate events)
If a death occurs, the authorities require the patient's passport, next-of-kin information, parent's names and occupations, and a local address
It is possible and helpful to set up instructions and pre-arrangements with a local funeral home
Do Not Resuscitate forms must be in Spanish
The funeral home will take care of the death certificate, Certificate of Death Abroad (required by the USA and Canada) and contact with the appropriate consulate.
Cremation costs approximately 14,000 pesos and transporting a body is extremely expensive
Remember Rescate can't be reached at 911. In an emergency dial 226-0911 or, from a US or Canadian cell, 011 52 (622) 226-0911.
Medications vs. Heat and Sun Exposure
When the weather in San Carlos (and elsewhere) warms up, it's important to remember that some medications make you more sensitive to heat and sun than you would normally be. Increased sensitivity to heat can mean anything from a reduced ability to sweat to an increase in the amount of fluid you lose through your urine. The dehydration and overheating that can result may lead to cramps, exhaustion, and even heat stroke. Increased sensitivity to sunlight can result in rapid and severe sunburns (especially lately, when the UV index has been extreme!)
The list of medications to watch for is too long to publish but be aware that antibiotics can cause photosensitivity which can result in bad sunburns or skin conditions. Some antihistamines have been known to reduce the ability to sweat, resulting in overheating.
In addition to antibiotics and antihistamines, some painkillers; many psychiatric medications (including antipsychotics and antidepressants); blood pressure medications; cholesterol lowering agents and even some over-the-counter vitamins or supplements can affect your ability to withstand heat and sun exposure. It's important to learn what heat or sun related side effects your medications might have. Your best resources are your physician or pharmacist, but there are also good online resources such as: medlineplus.gov
What can you do to avoid a problem? Here are some sensible measures you can take, even if you aren't at increased risk due to medications:
Stay hydrated with non-alcoholic and non-caffeinated drinks throughout the day.
When you're outdoors use sunscreen, reapplying often, and cover up with sun-protective clothing and a wide-brimmed hat.
If possible, stay in the shade or avoid being outdoors in the early afternoon, when the sun's rays are at their peak. Staying in air-conditioned areas is recommended.
Do your outdoor activities in the morning or evening when the weather is cooler.
Learn the signs of heat illness which include headache; racing pulse; rapid breathing or feeling light-headed, nauseated, or weak. If these symptoms occur, you may need emergency assistance, so contact your local physician or Rescate as soon as possible. In the meantime, move to a cool location, take a cool shower, bath or sponge bath and drink plenty of fluids.
Remember Rescate can't be reached at 911. In an emergency dial 226-0911 or, from a US or Canadian cell, 011 52 (622) 226-0911.
Preparing for a Summer Hike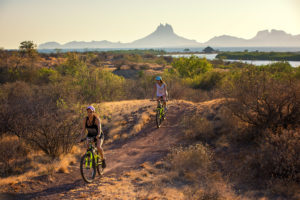 As we all know the weather in San Carlos from June through September can be brutally hot and humid. However, it is still a beautiful place that should be experienced and enjoyed; just a little more cautiously during the summer months when the sun and heat can pose health risks when combined with vigorous exercise.
If you're planning to climb Tetakawi or to hike Nacapule Canyon or other trails, Rescate offers some tips to ensure you head out well prepared to be safe and to enjoy your day.
Stingrays are common in the San Carlos area, and are often buried in the sand at the shore. They are not aggressive and stings usually occur when a swimmer or diver accidentally steps on one. To avoid this, always shuffle your feet when walking in the sea to warn them you're in the area.
Stingray injuries almost always need to be checked by a health care worker but first aid measures should be started at the scene. Care of the injured person begins with a safe removal of the victim from the water.
If the stingray injury is in the abdomen, chest or head, call a Rescate ambulance immediately at 226-0911, or from a US or Canadian cell phone it may be necessary to dial 011 52 (622) 226-0911. Remember that Rescate cannot be reached by dialing 911!
If the injury is to a foot, leg, hand or arm, administer the following first aid and come to the Rescate infirmary as soon as possible.
Lay the person down and flush the wound with sea water or fresh water if available.
You may attempt to remove the stinger with tweezers to decrease toxin exposure if it will not cause further harm. Be careful not to injure yourself with the stinger.
Apply pressure with a clean towel or clothing to stop the bleeding.
Wash the wound with soap and fresh water.
For pain relief, soak the wound in water as hot as the injured person can tolerate (preferably about 110° F or 43.3° C) for up to 90 minutes.
If the patient develops severe symptoms such as difficulty breathing; swelling or tightness in the throat; itching; nausea; rapid pulse; dizziness or loss of consciousness call Rescate immediately.
Rescate receives no government funding and operates entirely on donations and fundraising efforts. Please consider supporting your Rescate through a Gold Card membership or a donation.
Safe Disposal of Medications
Safe disposal of medications is not a subject most of us spend much time thinking about, but it's important. Medications that are still active can be eaten by children who mistakenly think it's candy, resulting in accidental poisoning. They are also sought after by "thrill seekers" or addicts who obtain and combine prescription meds in an effort to get high. Expired medications that are no longer effective can be equally dangerous if someone who really needs them takes them and they don't have the desired or required effect.
In San Carlos, where many people spend only part of the year, it can be tempting to store medications from one year to the next. Rescate suggests that you periodically go through your medications, both over-the-counter and prescription, and dispose of expired or unneeded items.
For environmental reasons, flushing medications down the sink or toilet is rarely recommended. There are several safe methods of disposal:
There are permanent (usually in pharmacies) and periodic take back and mail back programs in the States. The DEA website is a great source of detailed information. In Canada all pharmacies will take back unwanted medications at any time. Unfortunately this method of disposal requires you taking medications "up north" since Mexico does not have a similar program.
If you want to dispose of medications here in Mexico you can remove the meds from their containers and mix them with an unpleasant material such as cat litter, dog droppings or coffee grounds. Place this mixture in a sealed plastic bag and dispose of it with your household waste. It is not necessary or advisable to crush or grind the meds up first.
There are a few prescription medicines that contain controlled substances (including opiates, tranquilizers and some pain medications) that are very harmful if taken accidentally. As a result, these medications can be disposed of by flushing them down the sink or toilet when they are no longer needed and take-back options are not readily available. According to the FDA, while this is not advised for most medications, in these cases the risks to a child, adult or animal outweigh the environmental impact. Canadian authorities disagree, out of concern for marine life, and strongly recommend all medications be returned to pharmacies for incineration.
Once your medications are safely disposed of remember to remove or black out all personal information, including the bar code, on the prescription label before throwing out your empty pill bottle or other packaging.
Remember Rescate can't be reached at 911. In an emergency dial 226-0911 or, from a US or Canadian cell, 011 52 (622) 226-0911.