Melodrama 2020 - March 22 - 26 *CANCELLED DUE TO COVID-19

It was with heavy hearts that we cancelled this year's Theatrical Event due to COVID-19.
But GOOD NEWS - it will be back in 2021!
Concert to the Coyotes - Friday the 13th!
         
The third annual Concert to the Coyotes benefitted Rescate this year!  It was a wonderful event and the auxiliary's pie social was a huge hit.
Rescate is deeply grateful to One Size Fits All for organizing this benefit to help keep our doors open!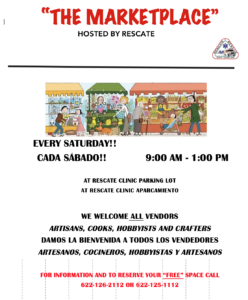 The Rescate Marketplace happens every Saturday, November through April, from 9 am to 1 pm in the Rescate parking lot.  The Marketplace features deeply discounted Treasures Thrift Store items along with numerous vendors offering a variety of wares. Come check it out!
Mark your calendars and we hope to see you there!
**Cancelled until at least November due to COVID-19
Rescate Treasures Thrift Store
Come on over to shop or donate!  Donations can be made any day at the infirmary - if the EMTs are not out on a call they'll gladly accept your donations.  And so will we!  Thank you, San Carlos!
**Closed until further notice due to COVID-19