2018 Rescate Holiday Boutique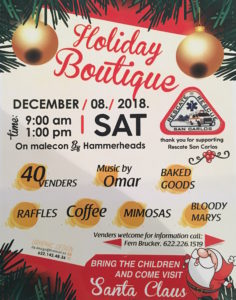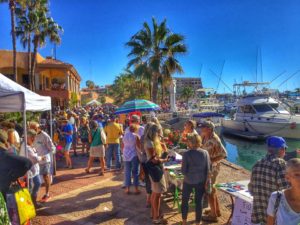 Saturday, December 8, 9 am to 1 pm
What a wonderful event this year!  It was so well attended that finding parking was a challenge.
The day was warm and sunny and there were over 40 awesome vendors, coffee and baked goods, Mimosas, Caesars and Bloody Marys, raffle prizes, great music by Omar,  and photos with Santa.
                    Thank you for your support, San Carlos!
Rescate Welcome Back Margarita Party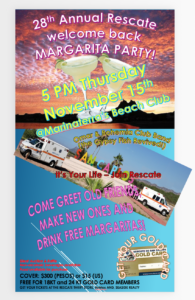 2018 Welcome Back Margarita Party! 
The party was held on Thursday, November 15, at 5:00 pm at the Marinaterra Beach Club.  There were lots of great items available at the silent auction and through raffle tickets, the margaritas were delicious, lots of people attended  and the dancing was fun!  This year's big (and awesome) surprise were fireworks!
Omar and the Bohemia Club Band
(aka The Gypsy Fish Band) and many other musicians played great music for this event.
   Rescate thanks each and every one of them for donating their time and their great music!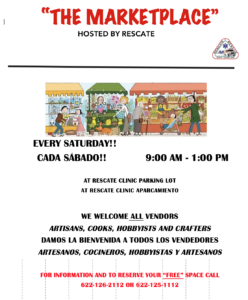 The Rescate Marketplace happens every Saturday, November through April, from 9 am to 1 pm in the Rescate parking lot.  The Marketplace features deeply discounted Treasures Thrift Store items along with numerous vendors offering a variety of wares. Come check it out!
Mark your calendars and we hope to see you there!
Rescate Treasures Thrift Store
The Rescate Treasures Thrift Store is now on extended winter hours!  We're open Thursdays, Fridays and Saturdays from 9 am to 2 pm, with the exception of Thanksgiving Day, November 22.  Come on over to shop or donate!  Donations can be made any day at the infirmary - if the EMTs are not out on a call they'll gladly accept your donations.  And so will we!  Thank you, San Carlos!