Concert to the Coyotes - Friday the 13th!
          The third annual Concert to the Coyotes will benefit Rescate this year!
Come and join the party on Friday the 13th of March - the doors open at 4 pm and the music will start at 5:30 and end whenever everyone is too tired to dance any more!  One Size Fits All (and friends) will supply live music to dance the night away under the stars at the gorgeous Rancho Nacapule.
Tickets are 100 pesos per person for entrance to the event with all proceeds going to Rescate. Tickets are available from Brian Koole, John Ruddock, RE/MAX First Choice Realty, Coldwell Banker, Ferreteria Maribel, and at the Rescate Marketplace on Saturday.
Asada tacos will be available, 2 for 50 pesos, and we'll have a fun pie social where pies are available for purchase, whole or by the slice.  Bring your own chair and cooler - it promises to be a great party again this year!
Rescate is deeply grateful to One Size Fits All for organizing this benefit to help keep our doors open!
Melodrama 2020 - March 22 - 26

This year's show will run from March 22 - 26, at 7 pm in the El Mar event room.
New this year, the final dress rehearsal will be open to the public for the reduced price of 250 pesos.  It will be held on Friday, March 20 at 1 pm.
Evening performance tickets are 400 pesos, Rescate 18 and 24 karat Gold Card Members free!
As always, the performance will feature lots of laughs in a not-to-be-missed comedy show!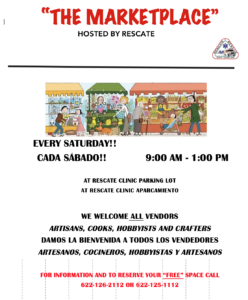 The Rescate Marketplace happens every Saturday, November through April, from 9 am to 1 pm in the Rescate parking lot.  The Marketplace features deeply discounted Treasures Thrift Store items along with numerous vendors offering a variety of wares. Come check it out!
Mark your calendars and we hope to see you there!
Rescate Treasures Thrift Store
Come on over to shop or donate!  Donations can be made any day at the infirmary - if the EMTs are not out on a call they'll gladly accept your donations.  And so will we!  Thank you, San Carlos!