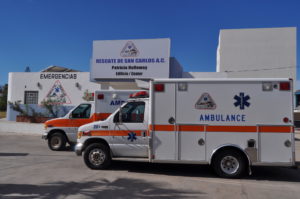 Over the past several months the Rescate Board of Directors has been reviewing our overall operation and has decided to make some changes to ensure continued safety and improved efficiency.  These changes will include, among other things, staffing structure and training, ambulance maintenance and procurement practices.  During the transition period we will be working with Cruz Roja in Guaymas, who have offered their full support and backup.
The work of Rescate is about improving the health of the San Carlos community and this is done through an extensive team of employees and volunteers.  Rescate remains solidly committed to ensuring that our town continues to receive the same standard of care that it has come to expect.
Rescate Ambulance Accident
On Sunday February 3, 2019, a Rescate de San Carlos A.C. ambulance was involved in a regrettable accident at the Douglas Bridge in Empalme while being driven by one of our first responders.  Luckily the first responder driving the ambulance was not injured and some of the vehicle's contents and equipment have been saved.
Given the loss of the vehicle and since the accident occurred in the City of Empalme, which is outside of the area we normally serve, an internal investigation has been started to determine what occurred.
According to the statements of the first responder driving the unit that day, he received a help call from the Director of one of the medical facilities in Empalme, asking for assistance to evacuate the facility's patients due to a reported threat.
Upon arrival, the first responder operating the Rescate ambulance (along with several other regional ambulances that responded) was informed that it had been a false alarm.  He was returning to the Rescate base in San Carlos when the unfortunate accident occurred.  These facts have now been confirmed by Rescate.
It is not possible to insure older emergency vehicles such as our ambulances beyond liability insurance. The accident therefore represents a considerable loss to Rescate de San Carlos as the ambulance could not carry collision or comprehensive insurance.
The Board's internal investigation is ongoing and once concluded, Rescate will take any legal action required.  We are also taking programmatic actions to prevent a recurrence, such as updating our driver's education and ensuring proper protocols are followed when such calls occur.
El día 3 de Febrero de 2019, una ambulancia de Rescate de San Carlos, A.C. tuvo un lamentable accidente en el tramo del Puente Douglas en el Municipio de Empalme, mientras era conducida por uno de los primeros respondientes.  Afortunadamente el primer respondiente de la unidad se encuentra muy bien y hemos podido rescatar algún equipo médico de esta unidad.
En virtud de la pérdida del automóvil y al haber sido el accidente en el municipio de Empalme, es decir, fuera de las zonas donde ordinariamente se brindan nuestros servicios, se ha iniciado una investigación interna, para deslindar responsabilidades.
Lo anterior, toda vez que de acuerdo a las declaraciones del conductor que manejaba la unidad el día de los hechos, este recibió una llamada de auxilio por parte del director de un centro médico en el Municipio de Empalme, pidiendo apoyo para evacuar a los enfermos que se encontraban en el nosocomio, debido a una amenaza recibida.
Al llegar al municipio de Empalme, (junto con varias ambulancias regionales que respondieron al llamado) se le informó al operador de la ambulancia, que todo había sido una falsa alarma y en su camino de regreso a San Carlos, fue cuando ocurrió el lamentable percance. Estos hechos han sido confirmados por Rescate.
Este accidente ha dejado daños considerables en el patrimonio de Rescate de San Carlos, ya que dicha ambulancia solo contaba con seguro de responsabilidad civil debido a que por el modelo y año, las compañías de seguros se han negado a otorgar una cobertura diferente.
Ahora bien, la Mesa directiva ha iniciado la correspondiente investigación interna, una vez terminada, Rescate procederá a tomar las acciones legales conducentes. También, se tomarán acciones programadas para prevenir actos recurrentes, tales como actualizar la educación vial en nuestros conductores e implementar los adecuados protocolos para casos similares.
Rescate Welcomes 41 New Members!

Thank You, Club Deportivo and Sons of Freedom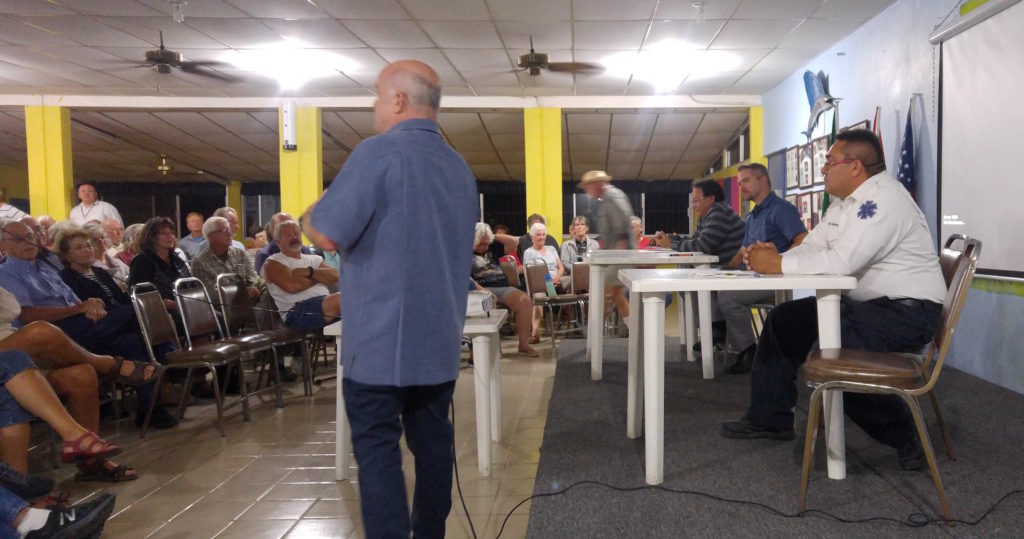 Club Deportivo is a great "behind the scenes" supporter of Rescate!  Thank you so much for allowing us to use a storage locker free of charge, for donating $2,000 pesos to the President's Club Golf Tournament and for hosting the two recent information sessions that netted donations at the door of almost $10,000 pesos.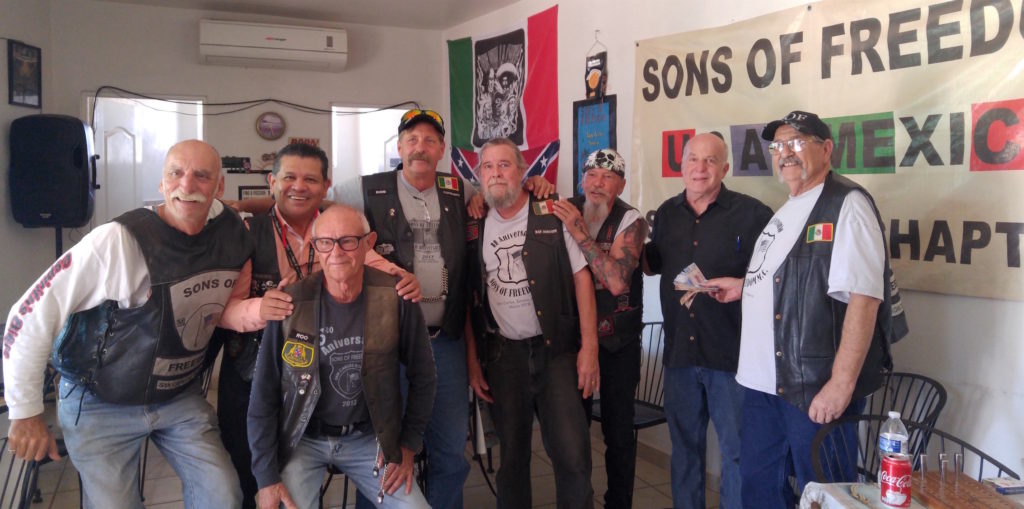 The Sons of Freedom also continue to support Rescate - thank you!  They selected us as the recipients of the proceeds of the 50/50 draw at the New Year's Day pajama parade.  The kind winner of the draw also donated her winnings back to Rescate so we were presented with almost $6,000 pesos.  The Sons of Freedom requested that the donation be used to purchase new blankets for our clinic, and those blankets have now been ordered.
Thank You Hammer Down Fishing Tournament!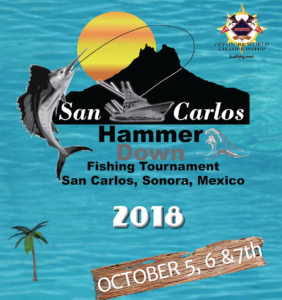 The recent San Carlos Hammer Down Fishing Tournament may have experienced a spotty catch, but Rescate really lucked out that weekend!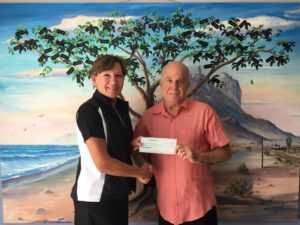 Marinaterra Supports Rescate!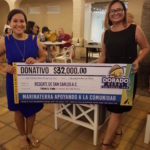 The 6th Annual Marinaterra Dorado Fishing Derby took place from August 31 – September 1, 2018. It involved over 55 boats and attracted fishers from across the country. Rescate is thrilled to announce that it is one of the community organizations that Marinaterra chose to support with the proceeds of the tournament!
An Amazing Rescate Gold Card Story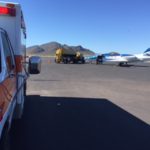 One Sunday morning a San Carlos resident suffered a broken hip and was taken by Rescate ambulance to a hospital in Guaymas. If this had happened in Canada or the United States – or even in San Carlos – the ambulance portion of the story would end here.
Rescate Saves a Drowning Boy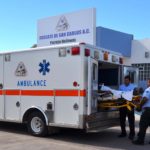 A five-year-old boy from Obregon is alive today thanks to a dramatic rescue by Rescate at the San Carlos Plaza hotel.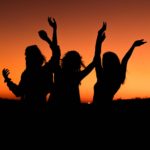 With help from Rescate, San Carlos survived another Semana Santa! During the week, Rescate staff responded to 120 emergencies ranging from a heat stroke victim 1.5 kilometers deep in Nacapule Canyon to a dog – yes, a dog – that had been severely injured by a javelina.
Rescate Coordinates a Dramatic Mountain Rescue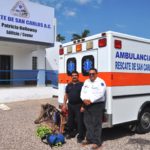 When a person walked into the Rescate building on a quiet March morning and reported that a climber had fallen and sustained injuries Jessy Guerrero, Comandante of the Rescate de San Carlos, knew that he had a big challenge and a long day ahead of him. The injured climber had fallen 10 to 12 feet, hit his head, lost consciousness, was unable to walk and was experiencing hip pain. The injured man was a very experienced climber and was with three equally accomplished climbers, but he was high up on a mountain and the average age of the climbers was 70 years old.
Another Rescate Story with a Happy Ending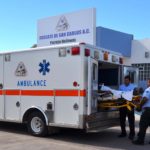 While we all hope that we'll never need to call upon Rescate and the local health care system we also want that system to be readily available, skilled and compassionate should we ever need it. Full time San Carlos residents Bill and Sue recently had a frightening, yet oddly reassuring, experience that convinced them that our local medical care is all of that and more.