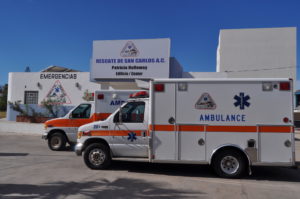 Rescate de San Carlos has grown considerably since the humble beginnings we described above.  Today it is a formal organization which operates with oversight from a community based volunteer Board of Directors.  A 501(c)(3) organization has also been created in Arizona to allow US residents to make tax-exempt donations to support Rescate services.
Over the years, San Carlos has grown and the demand for Rescate has grown with it.  A few years ago it became clear that Rescate had outgrown the little converted house that had served it well for many years.
The first building was purchased through concentrated fundraising (with special mention to Bill and Virginia Jackson who served pancake breakfasts every Sunday for many years until the last required peso had been raised) and in 2015 the board decided it was time to do it again.  A capital campaign was launched and sufficient funds were quickly raised to build a new, purpose-built building beside the original one.  This time the special mention goes out to the Holloway family for their tremendous generosity in memory of the lovely Pat Holloway, a huge Rescate volunteer and supporter.
Today the old building houses the bustling Rescate Treasures Thrift store and the new building is home to 10 ambulance attendant / EMTs, one bilingual EMT supervisor, and a bilingual part time office manager.  We own three ambulances (in various states of repair) and a minimum of three staff are on duty 24/7.
In 2017, 2,020 patients were treated at the infirmary and Rescate staff made 552 ambulance runs.  Assuming each of these were separate situations, that adds up to 2,572 patients served.  The total donations we received from patients that year totaled $120,982 pesos.  If you do the math, that works out to a $47.04 pesos or $2.41 USD donation per patient.  Given that Rescate expenses averaged about $220,000 pesos per month, those donations funded Rescate services for only two of the 52 weeks in 2017.
The remaining Rescate expenses (salaries, fuel, ambulance maintenance, medical supplies and overhead, to name just a few) are funded solely through fundraising and donations.  Our strong, dedicated and extremely hard working auxiliary raises a good portion of our income through the thrift store and the Saturday Marketplace in addition to annual functions such as the margarita party, the holiday boutique, the grand bazaar and the theatrical event.  These functions require an enormous amount of effort and hours and Rescate is deeply grateful to our amazing volunteers.
Further income is obtained through golf and fishing tournaments, endowments, and donations collected by the CEA on your water bill.  We are thankful that the San Carlos CEA moved the five peso donation they collect every month from the Red Cross in Guaymas to Rescate in San Carlos, as we usually get about $19,000 pesos per month.
Finally, Gold Card Memberships are essentially an annual donation to keep Rescate in business year-round.  There are currently fewer than 300 members which represents a small fraction (less than 5%) of the San Carlos population.
We all depend on Rescate to be there if we need them.  Why not give that some thought?  Are you a member?  Should you be?  Is your neighbor a member?  Can you afford to donate $175 or $300 USD or more every year to keep Rescate alive so they will be here to keep you alive?