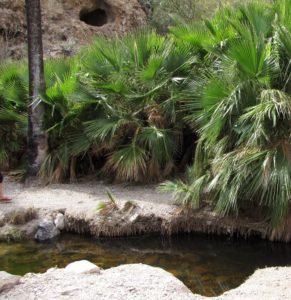 As we all know the weather in San Carlos from June through September can be brutally hot and humid. However, it is still a beautiful place that should be experienced and enjoyed; just a little more cautiously during the summer months when the sun and heat can pose health risks when combined with vigorous exercise.
If you're planning to climb Tetakawi or to hike Nacapule Canyon or other trails, Rescate offers some tips to ensure you head out well prepared to be safe and to enjoy your day:
Try to restrict your hikes to morning or late afternoon hours to avoid the heat of the day.
Before you leave on your hike, slather on some sunscreen (SPF 30 or higher) and carry it with you to reapply during the hike. Remember to cover all exposed skin and to protect your lips as well.
Wear clothing that covers as much skin as possible. Be sure it's made of a material that breathes, such as 100% cotton. Better yet, wear Ultraviolet Protection Factor (UPF) clothing. Remember your sunglasses, a wide-brimmed hat to protect your face, ears and neck, and solid footwear to protect your feet and ankles.
Carry more water than you think you need and turn back when it's half gone. Keep extra water in your vehicle to rehydrate after your hike.
Add electrolytes to your water or carry prepared sports drinks as well as water. The extra vitamins and minerals will help prevent leg cramps and reduce fatigue.
Carry and consume high protein snacks such as nuts or protein bars.
Take rest breaks, preferably in the shade, when possible.
Remember to bring your fully charged cell phone. Besides being a communication device it's your camera, GPS, compass and flashlight.
During the hike watch where you put your feet to avoid hazards such as loose rocks or roots. This will also help you avoid "live" threats such as snakes, scorpions and spiders.
Carry a first aid kit so you have supplies for any injury. It should include bandages, gauze, antibacterial ointment, cotton swabs, tissues, alcohol wipes, and hand sanitizer.
Enjoy your hike and stay safe!