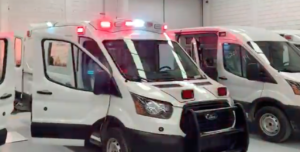 The Rescate board of directors, staff, auxiliary members and volunteers are thrilled to announce that, due to the extreme generosity of two families, we have been able to order two brand new ambulances!
After many years of expensive repairs to keep our ancient diesel-engine ambulances on the road, we are very excited at the prospect of having two brand new, custom built, gas powered ambulances to add to our one working ambulance.  For years, we have had to spend far too much money on import duties, costly diesel repairs and maintenance of vehicles that were too old to even insure.
The stars lined up for us just prior to Semana Santa when, nervous about our ability to respond to all ambulance calls during the holiday week, we reached out to Cruz Roja (Red Cross) in Guaymas for assistance and back up.  We learned from them, contrary to what we had always understood, that there is a company in Mexico City which builds ambulances on Ford chassis and offers Cruz Roja a very reduced price.
When the Mexican company agreed to sell to us at the same highly discounted price, we realized that our "ambulance fund", generously donated by a family some time ago, was in fact enough money for us to buy a new ambulance from this company.  Upon hearing this exciting news, a second local family offered to donate sufficient funds for us to purchase a second ambulance.  Rescate is deeply grateful to our exceptionally generous benefactors who have made it possible for us to purchase these ambulances. 
The Rescate board of directors would also like to recognize Cruz Roja Guaymas for sharing their knowledge with us and to the Guaymas Bomberos, who have provided ongoing back-up support and mechanical assistance during our revitalization of the Rescate operation.
Both new ambulances are under construction and nearly ready to have the graphics and light bars installed.  We hope to have them in San Carlos by the end of August.
Here are our new ambulances under construction: